Martyn Gilbertson Darwen
"I felt confident in my test thanks to Tim, and it's been good fun and he's helped a lot,"

Lewis, Taylor Burnley
"I recommend Tim Simms, he's very patient and he takes his time with you and he makes you feel calm when you are driving, go Tim!"

Dr Druv Koneru
I would recommend Tim Simms Driving School as I found him very relaxed during the lessons, highly informative, he has clear instructions, clear guidelines on how to progress and pass your test. Thank you.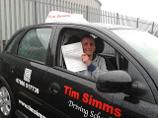 Steve Bush, Darwen
"Thank you Tim, first and foremost for helping me passing my test, thank you for your patience, always there to help me even when I'm about to give up on myself. I had another driving instructor before you, he wasn't for me. I think I found the perfect driving instructor. Again thank you very much."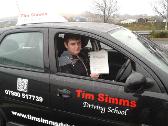 Sam Jepson, Darwen
"I would recommend Tim because he helped me to pick up what I need to learn quickly making clear progress,"

Dr Arish Rehman, Blackburn
"The test was really smooth thanks to Tim, a lot of help there. I'm really happy now."

Shaun Smith, Ewood, Blackburn
The driving experience is brilliant, 100%. Tim is honest with me, what I needed to do, any kind of help I asked of him he gave me, and that's it 100%

Dr. Alberto Mateo
"Tim is a very calm driving instructor, and that's good because that allowed me to drive with confidence, and he explains things very clearly.
I think I was very well prepared for the test ... I felt confident when I was there, I feel this is important because if you want to pass the test you have to feel confident about yourself, and that is thanks to Tim."

Bilal Rana. Blackburn
I had tried many driving instructors before I was referred by my sister to join Tim Simms Driving School after she passed. I was keen to pass and decided to trust my sister after she had experienced nightmare instructors in the past. This was the best choice I could have made for my driving career and I fully knew I had taken the right turn. Unlike other instructors, you can rely on Tim to be punctual, Tim is cool headed very motivational (supportive) and is full of knowledge, who will push you to pass your driving test with a 'Class A' performance. Was the best choice for my driving career I could have made. I definitely recommend this school of driving to anyone looking to pass. Very professional.
Thank you Tim for helping me pass and for the support!!
passed 30th July 2013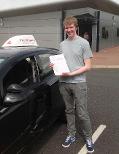 Sam Baxter Accrington
I Found Tim to be very calm. If you felt like you'd made a mistake, you weren't shouted at. He's calm, punctual and very reasonable."

Micah Young, Burnley
"I felt like I knew exactly what I was doing in the test , really familiar with all the manoeuvres and I would recommend Tim Simms Driving School"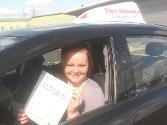 Becky Herbert, Knuzden Blackburn
"Yeah I've passed with Tim Simms driving School, I would recommend anyone to go with Tim, he's patient and teaches very well in the car."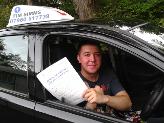 Tony Broughton. Colne
"Tim made me feel comfortable and relaxed when I was driving allowing me to concentrate on my driving, and the proof of the pudding - a first time pass!"